At Nature's Finest Nutrition, our goal is to bring you only the best of the best. That's why we've made Norm's Farms products available on our website so you can easily access the finest elderberry supplements on the market. Norm's Farms is an American company with the mission of providing the benefits of elderberry every day for everyone.
By choosing an elderberry supplement from Norm's Farms, you can be assured that you're getting an excellent product that's safe and authentic. Norm's Farms elderberry products have no added alcohol, no added sugars, and no artificial sweeteners.
Want to purchase Norm's Farms elderberry products? You can find Norm's Farms elderberry products and buy them directly from Nature's Finest Nutrition website. Our website is designed to make your shopping experience smooth and stress-free. With just a few clicks, you can complete the purchase process and have your elderberry product delivered to your doorstep.
Made from Farm-Fresh American Elderberry
From nature to nurture… this is what Norm's Farms elderberry products are all about. Norm's Farms is an American company that specializes in products using homegrown elderberries that may help support healthy immune function. In creating the elderberry products, the company employs rigorous testing for purity and authenticity to ensure that every product is of high quality.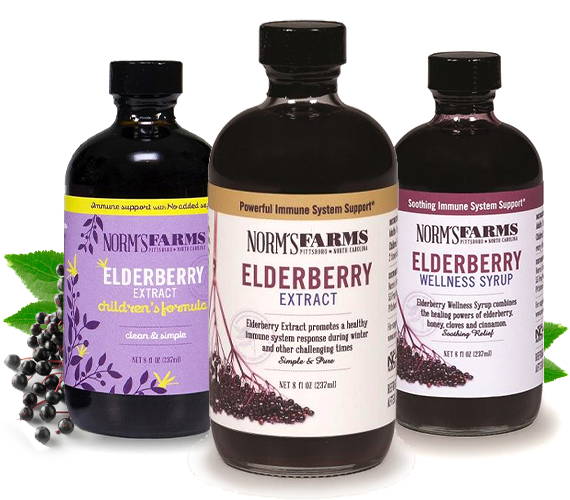 The great thing about Norm's Farms elderberry products is that, unlike other brands that use elderberry concentrate from other countries, Norm's Farms only use farm-fresh elderberries that are harvested from North American farms. Norm's Farms has a direct relationship with its elderberry farmers to ensure that the berries are farmed and harvested sustainably.
But why take elderberry supplements? Elderberries are dark purple fruits that are rich in vitamins, antioxidants, and phytochemicals called anthocyanins. According to promising scientific studies, elderberries may help boost the immune system and support cell health. Supplementing your diet with natural and nutritious elderberries may be beneficial to your overall health and wellbeing.
Get Your Elderberry Supplement from Nature's Finest Nutrition
Boost your immune system with Norm's Farms natural elderberry supplements at the best prices only at Nature's Finest Nutrition website.
Made with farm-fresh American elderberries, water, and a small amount of natural preservative, the Norm's Farms Elderberry Extract is considered the mother of all of Norm's Farms liquid elderberry supplements. It is an everyday supplement that you can use to help promote a healthier immune system. The Elderberry Extract is vegan, gluten-free, non-GMO, has no sugar added, and TRU-ID certified.  
The Norm's Farms Elderberry Wellness Syrup combines the benefits of American elderberry and other powerful ingredients including cinnamon, cloves, and honey. The Wellness Syrup can serve as a soothing supplement to naturally help relieve cold and flu symptoms. The Wellness Syrup is naturally sweetened with honey, is gluten-free, and TRU-ID certified
This elderberry supplement is specially formulated for children. To achieve a sweeter taste that is kid-friendly, Norm's Farms combined its signature elderberry extract with natural blueberries. This is a great elderberry supplement that could help support your child's immune function. The Elderberry Extract Children's Formula is vegan, gluten-free, non-GMO, has no sugar added, and TRU-ID certified.
Disclaimer:
We do not directly or indirectly give medical advice or prescribe alternative treatment. We recommend that people contact their doctor if they need a medical diagnosis. We assume no responsibility if anyone decides to use the information provided here to prescribe a treatment program for themselves. Healing is sometimes a slow process, and we suggest that you do not stop taking any medications or alter any existing health protocols you have in place without the guidance of a licensed doctor.