If you are looking for essential Healthy Origins nutrition supplements, purchase them directly from Nature's Finest Nutrition website. We have selected the most sought after Healthy Origins products and made them available for you.
Healthy Origins is a family-owned and operated brand that has been in business since 1996. With a mission to provide their customers with a Healthy Value from Reliable Origins, the company has continuously pursued its commitment towards high quality and effective products.
Why shop Healthy Origins nutrition supplements on Nature's Finest Nutrition? That's because Nature's Finest Nutrition makes nutrition supplement shopping a seamless experience. We have a customer-friendly platform that is very easy to use so you can shop with trust and confidence.
The Healthy Origins Guarantee: Healthy Products from Reliable Origins
Healthy Origins is all about exceeding their customers' expectations, and they do not compromise when it comes to quality and safety. From sourcing to manufacturing and up to the final stage of production, Healthy Origins makes sure that they strictly comply with FDA and cGMP guidelines. They follow rigorous quality-control procedures in the production of all of their products for consistent results.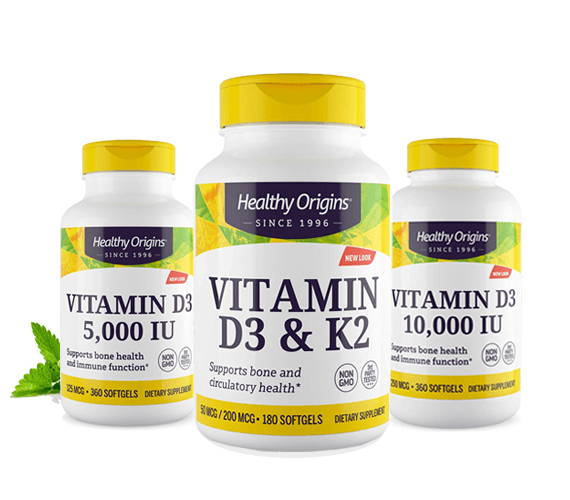 Healthy Origins products have been made using only the finest active ingredients from the most reputed suppliers. The majority of these ingredients are patented, third-party tested and branded to ensure top-notch quality. Healthy Origins can guarantee that they do not use any hidden fillers, coatings, binders, or preservatives so you can have the peace of mind that you're only getting the finest products.
Healthy Origins offers a variety of nutritional supplements that can contribute to your overall well being. They have dietary supplements that address bone health, brain health, circulatory health, digestive health, immune health, and more.
Purchase Your Healthy Origins Products from Nature's Finest Nutrition
You can purchase the top-selling Healthy Origins products from the Nature's Finest Nutrition website. Our straightforward online ordering platform ensures that you'll get your authentic Healthy Origins product quickly and conveniently.
Shop Healthy Origins Vitamin D3
Supplement your Vitamin D3 needs with Healthy Origins. This product comes in highly absorbable softgels so you can get the maximum benefit. It is also non-GMO and has no preservatives, fillers, and artificial flavors.
Shop Healthy Origins Vitamin D3 & K2
Combining two vital nutrients, Vitamins D3, and K2, this is an essential daily supplement to support optimal health. Both these vitamins are essential in calcium metabolism, bone health, and heart health.
Disclaimer:
We do not directly or indirectly give medical advice or prescribe alternative treatment. We recommend that people contact their doctor if they need a medical diagnosis. We assume no responsibility if anyone decides to use the information provided here to prescribe a treatment program for themselves. Healing is sometimes a slow process, and we suggest that you do not stop taking any medications or alter any existing health protocols you have in place without the guidance of a licensed doctor.